05/25/08 06:30 AM Filed in:
Vienna
SUMMARY

Today ends with some (loud) electronic music by composer Iannis Xenakis in our electronic music lecture. Later, Camilla invites us to her house for a party. Party time.

Read More...
02/03/08 07:10 AM Filed in:
Vienna
Day 185 — Viennese Horn teachers

03-February-1972 (Donnerstag–Thur.)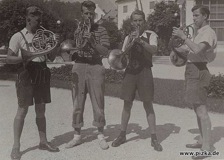 Today, I get a horn lesson from Dr. Paul, who tries to help me with my frustration. I may not be a pro but I want to be as good as I can.

I take this time to thank my main professor, Frederick Gabler. In my research I run across a great site filled with horn history and information.

Read More...