04/09/08 07:36 AM Filed in:
Vienna
Day 251 —Mike and the Vienna Boys' Choir; Idea book

09-April-1972 (Sonntag–Sun.)


Today is a long post. I talk about my friend Mike and his work with the Vienna Boys' Choir. About creativity, ideas, and writing down your thoughts in those old school marble notebooks or a journal.

Read More...
Day 32 — Amusement at Prater

03-September-1971 (Fri.)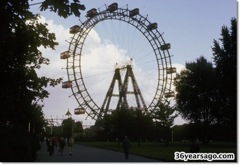 A day at Vienna's Prater amusement park with Anjali. I get a little dizzy, lose in ping pong, and eat a lot. As an aside, I comment on my use of emdashes and thus address some of the grammar issues of my journal writing, and plea to Grammar Girl to set me straight.


Read More...