Day 11 — Danube boat party, the Iron Curtain

13-August-1971 (Fri.)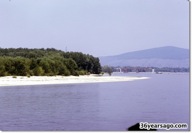 No short posts here. Live on-the-spot journaling, documenting an exciting full-day excursion on the Blue, err Green, Danube River that flows by Vienna (
Wein
). Sightseeing, plenty of photos, and more.

I'm up to the task and only briefly let the armed patrol boat, barbed-razor-wire security fence (the Iron Curtain), and the armed machine-gun guards in the towers "shock" me. Welcome to Czechoslovakia and communism in the 60's and 70's.

Anjali, a young, pretty girl, comes to the rescue. We sightsee, eat, and then learn to dance. I'm her first dance partner.


Read More...