07/21/08 07:38 AM Filed in:
Vienna
Day 354 — In Vienna, last day, 1320s

21-Jul-1972 (Fri.)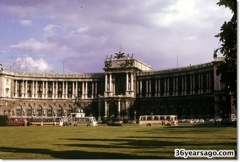 The excitement builds towards the conclusion of my trip as I spend my last day in Vienna. My mom sends me $100 (surprise) but I can't cash it (bigger surprise). What to do? What to do? I think we all know the answer.

Even in 2009, I'm getting a little emotional over everything. I
feel
like I coming back home
again
. Deja vù.

Read More...
Day 91 — Feiertag, Austrian Rotary

01-November-1971 (Mon.)



Feiertag. Holiday. It's All Saints Day, the day after Halloween. I'm spending money too fast, and trying to meet with Austrian Rotary Club members. Mozart's
Magic Flute
restores calm.
Read More...