Day 26 — Mahler's 8th Symphony; Schönbrunn Palace

28-August-1971 (Sat.)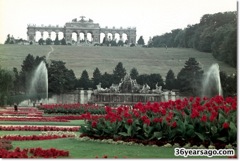 What a day. A visit to the incredible Schönbrunn Palace and gardens with Anjali, and an incredible performance of Mahler's 8th Symphony. Shivers…shivers…shivers up and down my spine.

Practice on my new horn and sad to see Achille leave for Italy.

And a little rant on why the RIAA should change their policies and fees on licensing music for Internet-radio and podcasts.

Read More...
08/08/07 09:16 PM Filed in:
Vienna
Day 6 — A new roommate, Achille

08-August-1971 (Sun.)


Today is a day of rest, and of meeting many people. First and foremost, I have a new roommate, Achille, who is from Milan, Italy. Together, we meet friendly people over lunch and dinner from South Africa and France, and attend Mass at St. Stephan's Cathedral.

Read More...