Day 327 — Arrival in Poland—what a day

24-Jun-1972 (Sat.)

I'm in Poland. A totally incredible day of travel with a long post that documents parts of my journey to Poland and my first impressions of communist Poland. A book-learned kid suddenly wakes up to the real world and finds that people are friendly the world over and that soldiers carry machine guns. And that you can sometimes travel to the wrong town in the wrong part of the country on steam locomotives.

Read More...
Day 11 — Danube boat party, the Iron Curtain

13-August-1971 (Fri.)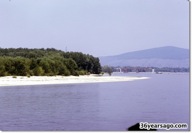 No short posts here. Live on-the-spot journaling, documenting an exciting full-day excursion on the Blue, err Green, Danube River that flows by Vienna (
Wein
). Sightseeing, plenty of photos, and more.

I'm up to the task and only briefly let the armed patrol boat, barbed-razor-wire security fence (the Iron Curtain), and the armed machine-gun guards in the towers "shock" me. Welcome to Czechoslovakia and communism in the 60's and 70's.

Anjali, a young, pretty girl, comes to the rescue. We sightsee, eat, and then learn to dance. I'm her first dance partner.


Read More...