Day 187: Great horn website
02/05/08 07:51 PM Filed in:
Vienna
36yearsago.com

Vienna 1971—A Student Journal
A year of music, study, travel, sightseeing & friends.



Day 187 — Great horn website
05-February-1972 (Samstag–Sat.)


TRANSCRIPT



(Horn section L-R: Hoegner (missing), Volker, Altmann, Pfeiffer, Zajer. Courtesey of www.pizka.de.)


I can't remember what I did (I'm writing from a few days in advance). Ah! Spent, most of the day in El. Musik – but didn't get much done at the end of the completed sound recordings.


REFLECTIONS

1972. Nothing today in 1972.

2009. A few days ago, I discovered a great website that contains some great photos and information on the Horn, and the Viennese Horn, in particular. This website was created by Prof. Hans Pizka. Prof. Pizka has graciously given me permission to post a few photos and links from his site. If you have an interest in the Horn or Viennese Horn, I recommend visiting his site.

All content and photos remain the copyright of the original copyright holders, and of © 1995/2005 Prof. Hans Pizka.

Prof. Hans Pizka. Since 1967, Prof. Pizka has been the principal horn in the Bavarian State Opera in Munich, holding the distinguished title of the "Franz Strauss Chair." Prof. Pizka has also performed with the Vienna Philharmonic as first horn. You can read about Prof. Pizka at his website. On the home page, you can find a link to a Quicktime movie of him playing the traditional horn's long call. Listen and watch, you'll enjoy it. To navigate this traditional HTML site, click on the sitemap link to locate specific topics. The photo below is of a Wagnerian-style horn section. Notice the large number of horns and the Wagner Tubas in the 2nd row. What a glorious sound.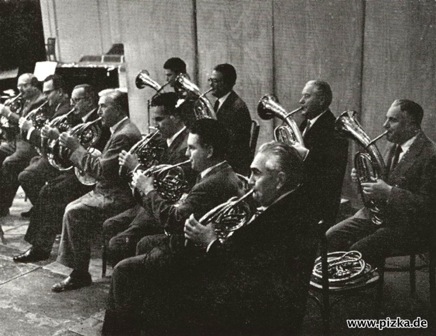 1972 Viennese research. I discovered Prof. Pizka's site while researching my journal entries. For example, I wanted to find more information about my horn teacher, Prof. Frederick Gabler. Success, the site had ay 185: Viennese Horn teachers">photos of Prof. Gabler. I would guess that Prof. Pizka and Prof. Gabler may have known each other as associates. From this website, I also confirmed that Prof. Gabler was the assistant first horn in Mahler's Symphony No. 5, from Bernstein's memorable Vienna concert series of the Mahler Symphonies in 1972. (See below.)



VPO plays the Vienna Horn. I did not realize that the horn players of the Vienna Philharmonic Orchestra were required by contract to use the Vienna F horn. The single Vienna F horn is harder to play than the traditional F/Bb double horn used by many horn players. The Bb horn extension has shorter tubing and is thus higher pitched, allowing for easier playing in the higher register. If you are a public school teacher, you can give a great science lesson on the Horn and its relation to science—natural horns, acoustics, production of sound with vibration, how valves affect pitch, the harmonic/overtone series).

Viennese Horn.
There are some wonderful vintage photos in this section and text descriptions of the history and instruments of the Viennese Horn tradition (in English and German). The photo (right) is of hornist, Josef Schantl in 1880. Check out some of these links for a wonderful look at the Horn and some of its history. The site contains additional links to other horn sites and photos as well.
The vintage horn photos are amazing
.

Links:


Site
Sitemap
Prof. Hans Pizka biography
The Viennese Horn
Viennese horn players


Thank you Prof. Pizka for this great website.

Here are some additional photos.




John

- - - -