Day 355: Paris and Anjali, 50 francs
36yearsago.com

Vienna 1971—A Student Journal
A year of music, study, travel, sightseeing & friends.



Day 355 — Paris and Anjali, 50 francs
22-Jul-1972 (Sat.)


TRANSCRIPT

WIEN to PARIS

A busy morning. Left for airport. Airport—no problems with bringing guitar and horn on plane. My luggage is the exact weight. Routine check of luggage and personal search. No problem. Good idea.

Changed money. I have 50 Francs to see Paris.

Ha!

Plane trip: very small plane. Still, everything really nice.

PARIS

After getting a lot of help from a fellow at Pan Am, I contacted Anjali. Took bus, left luggage, and went to house (walked).

Met mother. Beautiful house, right at the foot of the Eiffel Tower. Met sisters. Nice. They already had so many guests, I couldn't stay. Helped me find a room for 20 francs at a student hostel. Went there and then back.

Met Anjali—looking great. Went for a walk, ate, and then sang with guitars. Really nice seeing her, pleasant, and good looking.

Had a short, nice, and pleasant time. Not time alone. Said goodbye knowing that we wouldn't see each other again.

Again, this was the logical and foreseeable result—since we have two different paths and countries. Again, I have another empty feeling, another void.

Paris — People — Europe — THE END


REFLECTIONS

Paris in a day. I leave Vienna and arrive in Paris. The Pan Am people were once again very helpful (bring that airline back). I don't write about Paris itself because I was preoccupied with a special friend, but I did take some pictures. Paris, the little I saw of it, was beautiful.

Money. On arriving in Paris, I only had 50 French francs. As always, and with most us, money always seems to be an issue. With the ebb and flow of life and living expenses, things haven't changed that much in the present. We have to make due.

Parisian memories. Besides Anjali, I have two memories of Paris—one, the fact that it was beautiful to walk around and that there was a sense of history and culture (as with Vienna). The second memory is that of my walking through the park near the Eiffel Tower and asking a man for directions. In my best two-years-of-high-school French, I asked something like, "Pardonez-moi, je veux aller a cette addresse. Vous savez où est l'addresse?" Pointing to the address in my letter, there was no response and I thought my French was bad. Instead, he turned out to be a homeless man who was, himself, preoccupied.

Two preoccupied souls wandering the parks of Paris.

Anjali. I meet Anjali at her house and once again meet her mom, and her sisters—all very, very nice and friendly. I have mentioned that Anjali's father was a diplomat. They lived in a beautiful house near the Eiffel Tower. Living all over the world was a nice way to grow up. Did I mention that Anjali knew how to speak a million languages?

I think that Anjali was happy to see me in her always polite, but cute, manner. I remember her asking me how long I was planning to stay. Perhaps, she would have showed me the city. I said I needed to leave shortly. Inside my churning stomach I'm hoping that, somehow, her family was going to let me stay for a few days. When I heard they had guests, I said I was leaving the next morning. Her mother helped me find a room in a student hostel. They didn't know I only had 50 francs to my name. (What an adventure.)

A talk, a walk. After setting myself up at the hostel, I return and spend a short and wonderful time with Anjali, walking, talking, just being good friends. You can tell from the journal that I had feelings for Anjali. Knowing that I would never see her again (and I haven't) was affecting me. I always suspected that Anjali had her feet realistically on the ground when it came to us. She was heading off to University in a month and had a full life ahead of her. I'm going across the pond back to the U.S. to start my life after college. Still there was this feeling of a void. Hard to explain. Not so hard to explain. Ah youth, we all get over it—but feelings are very powerful when you are young.

Anjali was a wonderful girl and we ended up being good friends.

Anjali surprise. Here is the surprise I promised you at the beginning of the journal, when I first talked about Anjali during the month of our summer German language course—Anjali and I ended up corresponding, via old-fashioned traditional letter writing, for several years after Vienna. I remember enjoying reading and writing those letters between us. I wish I had them (discreetly) for this journal. In those letters, we became better friends and shared our experiences.

Anjali eventually graduated University, married a young man, and begain to raise a young, new family. How do I know this? Well, 10 years after 1972 Vienna, in 1982, I wrote a song called "One Summer Night" that I sang on a homemade demo and sent to her old address. Surprise, I receive a response and Anjali updates me on her family. Unfortunately, I can't sing very well, but "One Summer Night" specifically referred to Anjali and our dinner/dance night out when she was leaving Vienna in September 1971. See Day 033.

I remember, that in 1971–1972, I missed Anjali a lot.

Last day is tomorrow. My last day in Europe is tomorrow. I will reveal a new Anjali surprise that even surprised me.

Here are some photos of Paris. Such a beautiful city.



You know this, the Eiffel Tower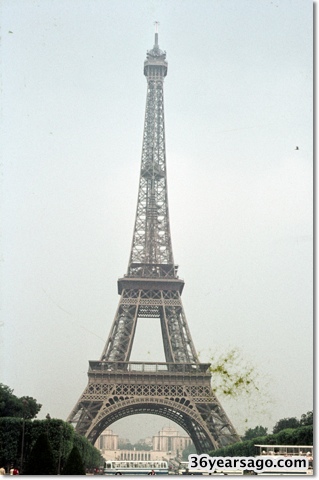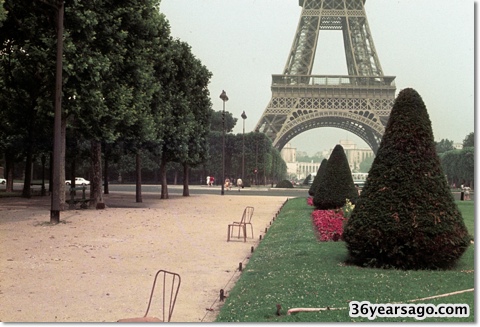 A Parisian street corner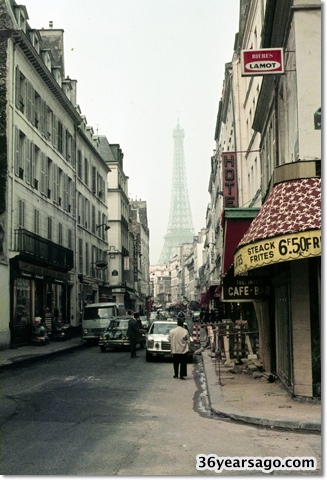 Walking the streets and parks of Paris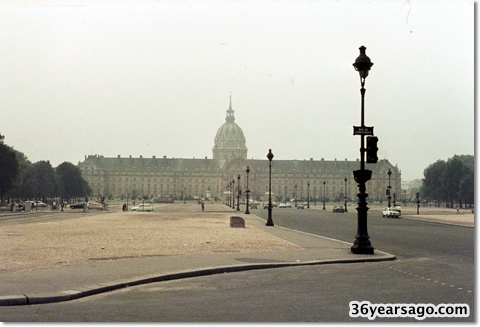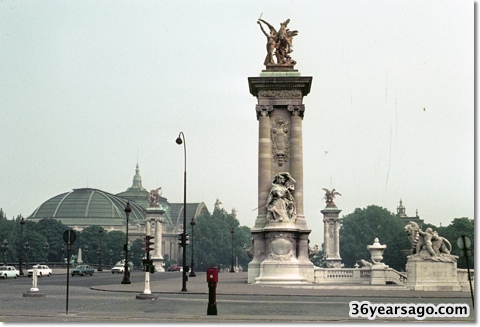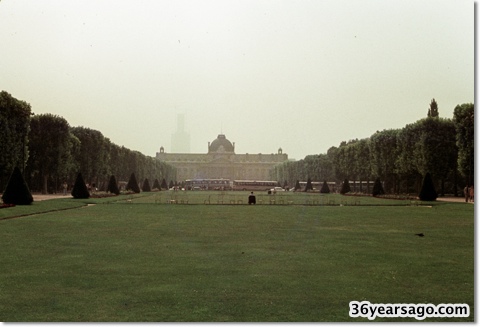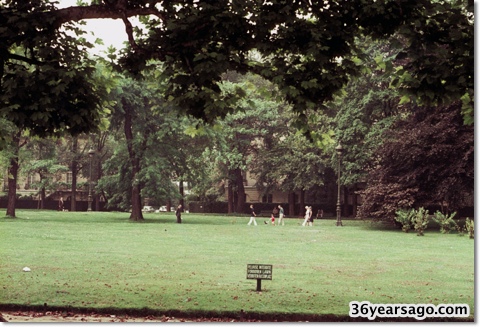 John

- - - -