Day 061: Oktoberfest is here
10/02/07 05:56 PM Filed in:
Vienna
36yearsago.com

Vienna 1971—A Student Journal
A year of music, study, travel, sightseeing & friends.



Day 61 — Oktoberfest is here
02-October-1971 (Sat.)


TRANSCRIPT

I'm not allowed to play horn in my room and the stupid academy keeps the rooms locked on weekends. Since my horn exam is Tuesday, things are becoming awkward.

Spent part of the day going through the Rathaus because of the "open-door" day, coinciding with the Munich Oktoberfest. (beer) There were free tours around the city and most of it seemed to display city planning. There were fire engines, garbage trucks, and elephants—all of it interesting and amusing.

Saw the Gypsy Baron at the Volksoper. Johann Strauss; very typical of him—waltzes and polkas. Very enjoyable light opera with ballet.


REFLECTIONS

Horn practicing. Well, I don't blame the landlady for not allowing me to play my horn in my room. It would disturb everyone and not be fair. Plus, when you practice, it is often for at least 2 hours, and it's loud. The real frustration, and thus my use of the word stupid, is that I cannot use the practice rooms in the school of music because they are locked on weekends. So, what do I do? Head for the beer drinking at Oktoberfest.


Oktoberfest.
I don't have to tell you what
Oktoberfest
is—especially if you're in college. Oktoberfest is a two-week celebration in September-October that celebrates, I believe, German beer (and eating). Wikipedia has some interesting facts on
Oktoberfest here
.


This festival is associated with Munich, Germany, in Bavaria. From stories, it is supposed to be wild. I'm certain that it is celebrated in other places in Europe as well. In the U.S., college kids will follow any holiday having to do with drinking some beers. Yay! (Moderation is the key word here.)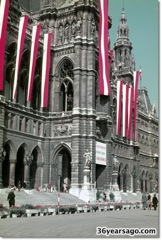 Vienna Rathaus.
It was very nice to be able to go on tours in the Rathaus during this festival. I have some pictures of Vienna's celebration at the Rathaus. (I was wondering where those elephants came from.) I don't think I went out and celebrated in a beer hall or anything, just the city festivities, although if I can't remember, it may be a sign that I did participate.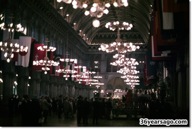 Gypsy Baron.
The
Gypsy Baron
by Johann Strauss has plenty of waltzes, polkas, and dance. Very enjoyable light opera. Performed at the Volksoper.

John

- - - -