Day 176: Brother Mike in Vienna, yay!
36yearsago.com

Vienna 1971—A Student Journal
A year of music, study, travel, sightseeing & friends.



Day 176 — Brother Mike in Vienna, yay!
25-January-1972 (Dienstag–Tue.)


TRANSCRIPT


At 6:30 [a.m.], met brother Mike and friend at the train station. Brought them back to my room and cooked them breakfast—eggs, even. After a slight rest—we're all tired from the last couple of days—we went out on the John M crash course—"All of Vienna in One Day" [tour].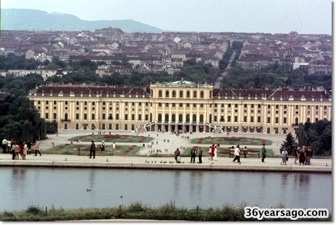 They saw most of the big sights and there were even a few "firsts" for me: Votiv Kirche, tour of the living quarters of the Hofburg Palace. Very beautiful, learned something about last emperor, Franz Joseph. Rooms were also very enlightening. Saw most of the Kunthistorische (Art Museum) – reminded me of the Met [in NY] and Schönbrunn with the tour of the inside. These tours were excellent—you can learn something historically and they're very interesting. At Schönbrunn (above photo), we saw 50 rooms—excellent. Besides all of the other walking around, we saw most of the famous buildings and also went shopping.

At night, had 60 schilling seats to see "The Marriage of Figaro." Good, but we were all extremely tired and probably didn't enjoy it as much.

Saw them off and then returned to a "welcoming bed."



REFLECTIONS


Brother Mike in Vienna.
Yes, my brother and his friend make to it Vienna. After some home-cooked breakfast, we spend the rest of the day in heavy sightseeing. Here's what we saw:


• Votivkirche (I lived near this church.)
• Hofburg Palace (inside tour)
• Kunthistorische (art museum)
• Schönbrunn Palace (inside tour)
• Vienna Staatsoper
(Marriage of Figaro)



Photos.
I tried to place each photo from today in the blog and pictures area. (1) The opening photo, is, I believe, the Kunthistorishe (Art Museum). However, it could be the Natural History Museum. They are both in the same plaza and may even look the same. I can't remember. It's the idea that counts. (2) Schönbrunn Palace is the 2nd photo. (3) Votivkirche is the 3rd photo. I lived near the Votivkirche. (4) The Hofburg Palace is the photo to the right. (5) The Staatsoper photo is below.

Amazing tours, amazing day.
This is a pretty amazing day and because we took the inside tours of the Hofburg and Schöbrunn Palaces, I learned quite a bit of the history of these sites. Amazing places, amazing spaces. I think my brother Mike and his friend enjoyed it. They then got back on the train to head back to Kitzbühel to finish their ski vacation. Mike's a great guy, has always been a hard worker, and deserved this time off.


An excellent day.

John

- - - -