Day 158: Beautiful Zurs
36yearsago.com

Vienna 1971—A Student Journal
A year of music, study, travel, sightseeing & friends.



Day 158 — Beautiful Zurs
07-January-1972 (Freitag—Fri.)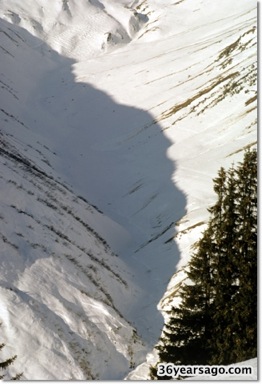 TRANSCRIPT

St. Anton
Skied alone today. Went to Zurs. Better (mostly) snow conditions. Some of the slopes and scenery were fantastically beautiful. I wish I had my camera. Good thing I didn't take my camera, because I took a couple of really bad falls.

Made the circuit. Up to the high chair lift and around the back of the mountain—quite a ways, to Lechs.

Long and nice run. Good snow. (However, I liked the other Valhalla run better.) From Lechs, [took] the cable car up, and then a very easy, medium long run down to Zurs. Took quite a while.

Zurs (combination with Lechs) has some of the best and most beautiful skiing in Arlberg. The scenery is surrealistic. About a 40-minute bus ride from St. Anton.

Conclusion on St. Anton

International resort, thus very expensive. Probably most expensive in Austria. Can get somewhat crowded (lift lines; some slopes), especially during the holidays. However, the skiing (overlooking conditions) is fantastic. There is so much in the Arlberg area and most of it is of medium difficulty—what I like. It is basically challenging enough, relaxing enough. Mostly wide open slopes (because of altitude), not through the tree line. Very many possibilities. Ski school is basically good. You do an awful lot of skiing in a lot of places. So it is like having a ski guide (unmarked slopes). The conditions (in the Tirol area) will probably always be the best here (highest altitude). For this week, it was basically hard, sometimes good, lower areas not good. Considering it hasn't snowed in 3-4 weeks, this is not bad. Thus, good and bad points.

Went dancing with English and American students. Great time. Lot of fun. Perhaps can meet one or two of them in London in summer. Too bad I wasn't staying longer.


REFLECTIONS

Skiing Zurs. Zurs had amazing views and better snow conditions for this period. A full day skiing ending with a long run down the back of the mountain to Lechs, back up in the cable car and then down a moderately easy run. Great for practicing paralleling. I do like moderate runs with just enough difficulty not to kill myself. The opening photo is of a snow-filled valley (venue unknown).

What is amazing and not obvious in the journal is that I ended up 40 minutes by bus from St. Anton. That is quite an amazing journey down the back of the mountain. (I hope I'm correct on this.)


St. Anton reflections.
I write down my thoughts about St. Anton. Basically, I really like St. Anton and the Tirol region a lot. If it were crowded at the cable car or lifts, I need to remind myself that it is a holiday week—New Year's week. The snow conditions were certainly affected by the fact that there was no snow for 3-4 weeks. That's a long time in the mountains. Considering this, then it wasn't too bad. Today, I remember the amazing long runs, skiing the "back" slopes, and the incredible scenery. Remember, except for Innsbruck, I have never skied quite so high above the tree line. These are real mountains, these Alps. The ski school was different but offered much more skiing and exploration of the various slopes. I liked it after realizing the benefit of having an instructor/ski guide. I believe the photo (above left) is of St. Anton.


[I've heard that in recent years, much of the Alps has gotten less snow than in decades past. Certainly, that is influenced by global warming. A friend in Switzerland tells me that their remaining glacier(s) are not going to last very long.]
Nature.
Certainly, when nature cooperates and there is plentiful snow, St. Anton must be an incredible place to ski.


Expensive.
As mentioned many times, St. Anton was generally expensive.


Conclusion.
I loved St. Anton.


Dancing with the girls.
What's going on with me? I'm meeting girls right and left. Is it the golden suntan from the Tirolian slopes? My dazzling après ski attire? I don't know. International-traveler's confidence is all I can guess. Believe me, even though it's easy for me to meet people, meeting girls was not the easiest thing to do. Good Golly, Miss Molly, I'm even talking about visiting them in London? Did I get an address? Hmmm.

Don't worry, I am still enamored by both Anjali and Elisabeth. I'm still a nice guy. Maybe I'm just lonely.



John

- - - -