Day 273: May Day, May Day!
36yearsago.com

Vienna 1971—A Student Journal
A year of music, study, travel, sightseeing & friends.



Day 273 — May Day, May Day!
01-May-1972 (Montag–Mon.)(Feirtag)


TRANSCRIPT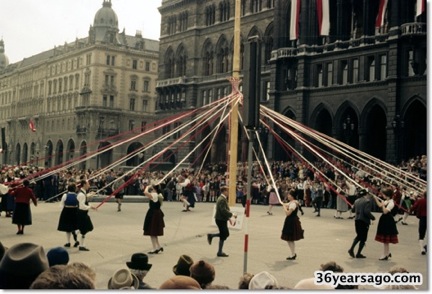 National Feirtag—Holiday of the workman.

On way to practice. It was unbelievable how many people were there because of festivities at the Rathaus Platz. You couldn't move. And there was a parade (small by American standards) with a few bands, etc. Of course, like everything, there was political propaganda. The atmosphere can be nice, except when it becomes political. After practice and eating, went back and saw some folk festivities: dancing, demonstrations (judo). Took some interesting pictures. Met some friends and spent the rest of the day with them.


REFLECTIONS

May Day, May Day! No, I'm not in distress. It's a national holiday in Vienna, Austria, and in other parts of Europe. It's May Day—May 1. This is the holiday celebrating the working man. Most of Europe celebrates this holiday, I believe. It was wonderful to see how the Austrians celebrated the day.


May Day at the Rathaus

Austrian culture. The opening photo shows Austrian folk dancing at the May Pole. I love seeing authentic folk dance and culture.

On the way to practice? To me, it sounds like I wasn't aware that today was a holiday and so I am on my way to practice and am surprised to see all of the people in the streets. Still, I go to practice and return to the Rathaus in the afternoon.

Politics. As a young person, I probably considered all politics evil. After all, you can blame problems on politicians and governments. Truthfully, the Vietnam War was still in progress and this certainly influenced my thinking on politics. Regarding May Day, what could have been so bad? Nothing. It was likely that there were political speeches on this day and I see this as spoiling a perfectly good holiday. Does this happen at U.S. holiday celebrations? Yes. And don't forget the showing of the Russian military parades that we always saw on May Day in the U.S. I believe I didn't let the politics spoil the fun activities of the day.

May Day in Vienna. There are lots of pictures today. I live near the Rathaus, which is the seat of the city government of Vienna, and which is hosting a good deal of the festivities of today. It was a lot of fun and there was a great variety of entertainment in celebration of all of us. Yay!

More photos:


Austrian folk dancers in costume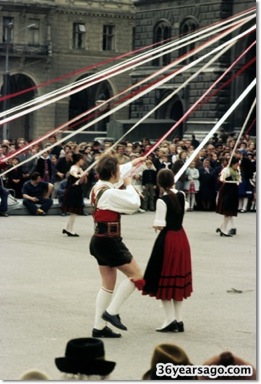 Elephants galore

Horsie rides for the kids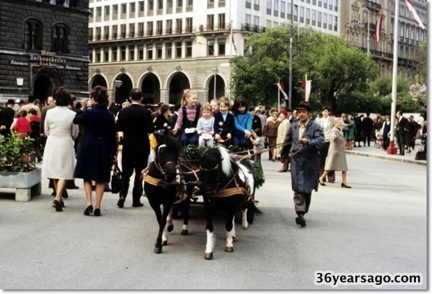 Judo exhibition

Trampoliners

Kids love fire engines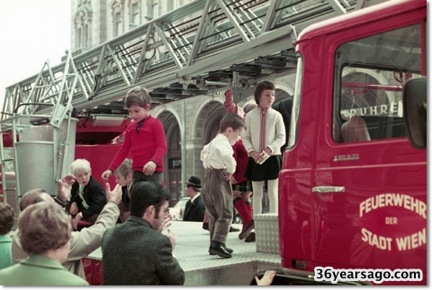 May Day in Wikipedia

John

- - - -