Day 152: Glückliches Neues Jahr; New Year's Day concert; off to St. Anton
36yearsago.com

Vienna 1971—A Student Journal
A year of music, study, travel, sightseeing & friends.



Day 152 — Glückliches Neues Jahr; New Year's Day concert; off to St. Anton
01-January-1972 (Sat.)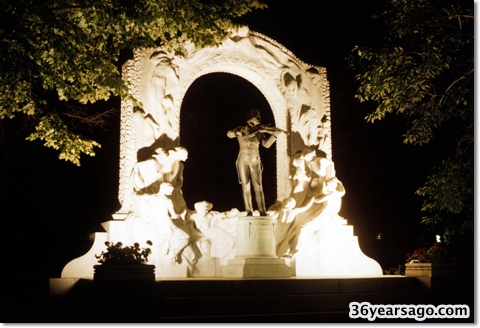 TRANSCRIPT

Vienna—New Year's Day
Innsbruck
St. Anton

It is a horrible fate to be punished on New Year's Day with a hangover. But…that's life. Next time, I'll follow my policy of "moderation."

Packed for St. Anton.

Went to the Neues Jahr Konzert of the Wiener Philharmoniker. It was fantastic. One of the happiest concerts. Mostly Strauss—waltzes and polkas, with the original "concertmaster" conducting style of Johann. The orchestra was fantastic. And for music like this, the balance and clarity of the orchestra is unbelievable. The light-style of brass and woodwinds, which are common here, has finally shown why it is good. Of course, The Blue Donau was an encore. It was also televised and I enjoyed watching their role.

Said goodbye to Lisa and Dolores, Pavel's girls.

I am now on the express [train] (5-1/2 hours to Innsbruck), in which I will arrive first in Innsbruck. This train is much faster and nicer inside than the others.

I hope that in Innsbruck, I'll succeed in meeting Elisabeth. [Yes.] I met Elisabeth for about 1 hour. She was in her housecoat and looked like she was ready for bed. She still looked great. I gave her a gift and perhaps we'll spend some time together on the way back. This whole adventure cost me money and took place "hin and zurick" from the bahnhof in 15 minutes. But it was worth it.

1-1/2 hours later, reached St. Anton and walked to my gasthaus. It was at the end of town, but it's a beautiful house and the hausfrau was extremely nice and friendly—friendliest person I met. When I came, they were already sleeping, but she got up and made me a bed in their kitchen to sleep.


REFLECTIONS

Although we are now in the year 1972, I will still make references to this blog and website as Vienna 1971, its title.

Glückliches Neues Jahr. Happy New Year. It's New Year's Day. 1972. Happy New Year in 2008 as well to all you readers. In 1972, I suppose I may have a hangover from yesterday's drinking. Ah, the excesses of youth. It's ok as long as you don't kill yourself. Remember, it's better not to drink at all, and if you do, only in true moderation.


New Year's Day Vienna Philharmonic Concert. I continue the wonderful New Year's traditions in Vienna by attending the performance, during the day, of the world-famous New Year's Day concert in the Musikverein by the Vienna Philharmonic. I don't see how we got in; it was crazy-crowded. We were in standing room and were packed in tight, way in the back of the hall. Still, the concert was fantastically enjoyable and the acoustics good. The opening photo is the Johann Strauss Jr. monument at night. The photo above is of the beautiful and elegant Musikverein. (The picture is actually of another concert.)

As I've mentioned many times before, the Viennese audiences love their music and their composers. The New Year's Day concert features mostly the music of the Strauss family, Johann senior and junior, brother Josef, and other composers—with many waltzes and polkas. At the 1972 concert, the conductor conducted in the style of a bandmaster—he played along on the violin and would start and stop the orchestra as he played violin, perhaps like Johann Strauss Sr. and Jr. The concert always has encores—often The Blue Danube and the Radetzky March. When the audience gets into the music, especially in the encore and the Radetzky March, it's infectious and you join in clapping to the music. It's happy music. The entire performance and atmosphere was incredible. In these last two days, I have experienced what many people cannot—two great Viennese traditions. It was incredible.

PBS Great Performances 2008 New Year's concert. Just today, I was able to watch the 2008 New Year's Eve Vienna Philharmonic concert, hosted by Walter Cronkite (over 24 years as host), on PBS's Great Performances series here in the U.S. The concert was conducted by Georges Pretre. This annual New Year's concert brings back great memories, especially with the beautiful camera imagery of the Musikverein and the other Viennese venues in this TV special. This program also includes works of the Viennese artist, Albrescht Klemmer, the Vienna State Opera Ballet, the beautiful white Lippizan stallions of the Spanish Riding School, the Hofburg and its galleries, library, Imperial art and treasures, Belvedere Palace, and other Vienna venues. This program is a great tour of Vienna.

Now, if you are viewing the video, look at the stage, look to the right side, slightly in front of the conductor, 2nd balcony; that's where I had a subscription seat to a number of concerts. Not this one, I was way, way in the back, standing.
Here is a link to the Vienna Philharmonic's New Years concert page for 2008 of the above concert. A DVD is available from PBS.org. A DVD of the 2005 concert is also available from Amazon.com.

Warning. It is almost impossible to get tickets to either Die Fledermaus on New Year's Eve and the Strauss New Year's concert. For the concert, some established Viennese families, I heard, pass on reserved seats from generation to generation. Everyone else has to enter a raffle to get tickets. So, somehow, I was very fortunate. I am certain that Mike engineered these successes. I generally don't know how to do these things well. Thanks Mike.

On the way to St. Anton. Holy cow! Seeing the New Year's Day concert and Die Fledermaus is not enough, I have to go to St. Anton for some skiing. I remember I was planning this, and perhaps being smarter, took the express train, which sounds much more pleasant and faster.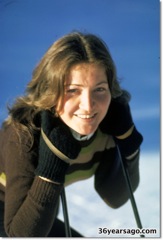 I see Elisabeth in Innsbruck.
Holy cow, again! I can't believe that I use the stopover in Innsbruck to probably take a taxi (or walk) to Elisabeth's dorm—back and forth was perhaps 15 minutes—wake her up in her bathrobe, give her a present, and get back to the train station to continue the trip to St. Anton. I know that it was late already. I'm positive that this was a surprise visit as well, with no warning to Elisabeth. Perhaps, I like Elisabeth more than I was willing to admit? Do I fall for every good-looking girl that gives me even a little attention? Well...


Arrival in St. Anton.
I take a second train and arrive in St. Anton, certainly very late. I walk to the end of town with my bags and find my guest house. The Austrian hausfrau is extremely nice, even after being woken up, and sets me up for the night.

What a day! What a year!

John

- - - -