Day 013: Vienna Woods, Kahlenburg
36yearsago.com

Vienna 1971—A Student Journal
A year of music, study, travel, sightseeing & friends.



Day 13 — Vienna Woods, Kahlenburg
15-August-1971 (Sun.)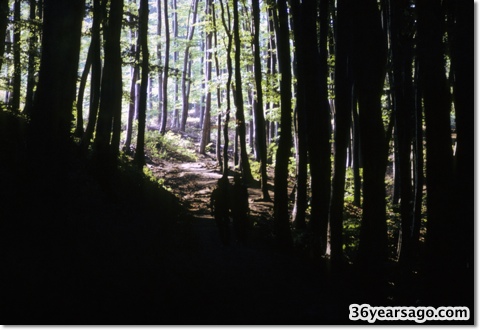 TRANSCRIPT

Went to Vienna Woods. Actually, [they] were woods with a few paths. Walked with Anjali, pleasant and nice. But got tired. Went to Kahlenburg—a vantage point to see the city of Vienna. Very nice. If you don't like to walk, you wouldn't like it.

Had dinner in Grinzing. Was also very nice.


REFLECTIONS

Vienna Woods – A day of walking in the Vienna Woods. Walking in a beautiful area, being outside, and being with a friend. You can't ask for anything better. I still enjoy walking, though it's always close by and not as dramatic, or pretty.

I don't remember much about how the Vienna Woods actually look. I mention that there were "woods with a few paths." Sounds nice. [What was I expecting? Werewolves and flying bats from Transylvania, coming out of the woods, attacking us? Where is Transylvania? Thank goodness I have a spell checker.]

Kahlenberg – A walk to Kahlenberg gives you a beautiful view of Vienna, vineyards, and it's environs. My DK book just verified that. Hopefully, my pictures will, as well. It sounds like it was a long walk, but I always enjoy walking and sightseeing.

Walking. I remember a day when we took a walk, and we were walking "up" and "up" quite a bit. It might have been today at Kahlenberg, or perhaps not. (If not, I'll move this entry to the correct day.) On that day, I remember a few elderly Austrians who were perhaps war veterans or civilians with missing limbs, making the long and strenuous walk up to see the sights along with many others. There were a large number of people making this walk. No one appeared to be complaining. I remember being impressed at how Austrians enjoy nature and the outdoors, and by how the people affected by WWII here in Europe, were not afraid to live and enjoy their lives despite hardships. Amazing. True character. Love of nature.

The day ended with a pleasant dinner at Grinzing.

Notes:

Pictures
– What will help me restore my memory are the pictures/slides that I took during this year. I am currently putting them in chronological order and will be sending them out soon to be scanned. Hopefully, both you and I will get to "see" a bit of what I mention in these outings. Update: I received my scanned photos from DigMyPics and am placing them in the blog. The picture of the Cross along a wooded path is one of them. Note, that I cannot find my documentation of the photos and I may attribute some of them to the wrong places. I think this picture was the Vienna Woods or my Kahlenburg walk, but I cannot be certain.


Photography
– The photo on the right are some Viennese kids posing on the statue of Johannes Brahms in Ressel Park. I was an avid photographer-hobbyist as a young student. It all started from taking a photography course in college. I eventually bought a Nikkormat camera from Nikon and a Nikon zoom lens. I really enjoyed photography and typically had my camera hanging around my neck and the zoom lens on my belt when I went out on outings. If you haven't yet discovered digital photography—you must, especially young people (AND retired people). You can learn as little or as much as you like and take it in a variety of directions as well. It's a great hobby. It will bring you a lot of pleasure and enjoyment. Not like golf (frustration).
So, don't wait. Start.


The old days of film
– These were the days of film. You loaded 35mm film into the camera, shot a roll, and then sent it out for developing either as slides, or prints. A bit expensive, especially as a student. However, looking back into this time window 36 years ago is another Mastercard "priceless" moment. Well worth it.


Kodak
– What better testament to high quality is there, than the fact that I still have these slides from 1971?
These slides are 36 years old.
These slides have been in plastic sleeves in notebooks, kept in boxes and bags, in hot and dusty attics, damp basements, and who knows where else. 36 years later, they look like they are in remarkably good shape. I can't wait to see the slides. I hope that the color has held up. We'll see. Regardless, that's KODAK quality.
[As an aside, one of my interviews for the fellowship was with a Rotarian who was, I believe, a Kodak executive. Thanks Rotary and Kodak. Small world.]


If I get significant readership on this blog, I'll be calling Kodak (and Nikon) up. Here's the tag line. Sign em up.


(show pictures, roll tape)

Memories—36 years and counting.
Kodak quality.
Kodak memories.
36yearsago.com


Bye, for now.

John

- - - -