Day 330: Farming is hard work
36yearsago.com

Vienna 1971—A Student Journal
A year of music, study, travel, sightseeing & friends.



Day 330 — Farming is hard work
27-Jun-1972 (Tue.)


TRANSCRIPT

POLAND

Bohdan and me went for quite a long walk around Malomice. Saw the whole town and land around it. Farmlands are really nice. Should have some good pictures.

Then spent a while in the strawberry patch, eating away. I took some nice pictures of Teta M's mother (Teta Hanna) and father. Teta Hanna wouldn't let me take her picture. She kept hiding behind all the bushes. A real lively person with a great sense of humour.

Next—eating, of course.

Say hello to mom and sisters from Lascasta from Malomice. Burgemesiter Frau. She was very friendly. The local one-store candy-store of Malomice was a village store—basic. Friendly people.

Took a nice walk in the sideways direction of Malomice. Here, no houses, only fields. Very quiet and beautiful.
Worked in the fields for a couple of hours. It's not easy to be a farmer—hard work. The whole family chipped in and we raked the fields and put the grass into haystacks. Will be used for feed for the animals in winter. I was really surprised how hard Teta M's mother and father worked.

The cows and the horses were brought along just like mom said she used to do. Nice experience.

Of course, ate. Worked. My female cousin even massaged my back. Can't believe how helpful.


REFLECTIONS

Walking around Malomice. Young Bohdan was excited to show me around the "town" of Malomice and we took a long walk that included being in the beautiful fields. Today, Bohdan is a grown man, a hard-working programmer, and has a family.

Hard-working folk. Similar to yesterday's theme, today's theme is the same—the life of a village farmer is not easy. These are hard-working folks and Teta M's mother and father are up there in age. We actually worked most of the day in the fields and garden. The cows and horses accompanied us. It was definitely a family venture where everyone worked hard.

Mom as a young girl. Suddenly, it reminded me of the stories my mom used to tell, where they went into the fields with the cows and horses to do the same thing we did today. Makes you wonder about your mother and what it must have been like for her as an adolescent and teenager.

The opening photo is of Teta M's mother going to work in the fields. Here are some pictures.


Teta M's mother and father tend the horses


Returning home from the fields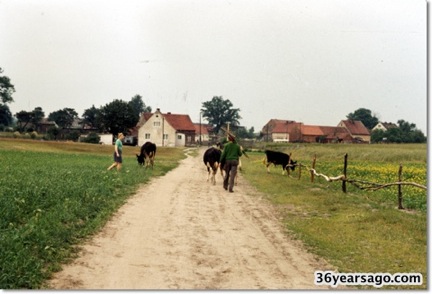 Giddyap! Go, horsie!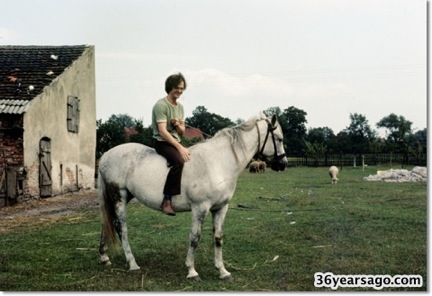 John

- - - -