Day 113: First major snowfall; Heiler plays Bach
36yearsago.com

Vienna 1971—A Student Journal
A year of music, study, travel, sightseeing & friends.




Day 113 — First major snowfall; Heiler plays Bach
23-November-1971 (Tue.)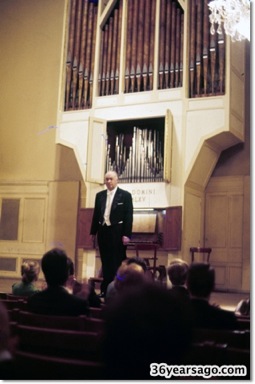 TRANSCRIPT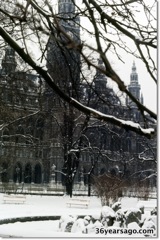 Just woke up.

Es schneit! It really is snowing. For the first snowfall, we're certainly having a healthy one. I could just imagine the Alps.

When it snows here, it snows. After a heavy day of
schnee
there were several results:

• Parks were beautiful scenes. So quiet.
• Streets were a mess. Another definition of snow—soot detector.
• Strassebahns were great fun to ride in (almost impossible). Like packing sardines in a can.
• I bought a winter coat (ski jacket), and an Austrian hat (ski) with the Austrian eagle.
• About 8+ inches of snow.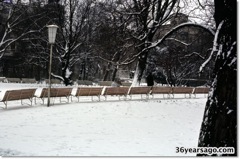 To end the day, which was full—4-1/2 hrs. of electronic music work, some practice, played in a symphony rehearsal for about 10 minutes—I saw the first [Anton]
Heiler Plays Bach
concert. Really enjoyed it. I'm learning also. His interpretation (use of rubato), which at first seems like "looking for notes," is his genius. His organ is "Bachish"—mechanical action, sometimes windy sounding. After the complete works, I should know more about Bach.



REFLECTIONS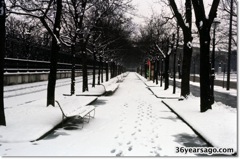 First snow.
The first major snowfall of the year brings beauty and a quiet serenity to Vienna's parks. Over 8 inches of snow fell. If you haven't guessed it, I love walking in the snow. Thankfully, I buy myself a winter ski jacket and hat. (My brown flimsy jacket in the horn photo was not meant for real winter.)

Of course, the city cars and traffic turn the snow into a mess. While the streetcars can move fine, they were packed with passengers. Still, sounded like fun.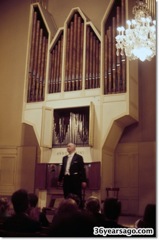 Anton Heiler plays Bach.
After a full day at school, I see a concert with organist Anton Heiler playing a Baroque-style organ (left photo). Organs in the time of Bach were mechanical devices, and I think that their sound reflected that construction. I truly enjoyed the concert. I mention Heiler's use of
rubato
(a free give-and-take of tempo; the tempo doesn't move strictly in time, but slows down and speeds up). My friend Mike, an organist and student at the academy, provided some insight into Heiler's playing. Anton Heiler was recognized as a major artist and interpreter of Bach's organ music.

Amazing. There is no Wikipedia article on Anton Heiler. Come on musicologists, get an article going.
Here is a link
to one of his CDs.

John

- - - -