Day 029: The beautiful parks of Vienna
36yearsago.com

Vienna 1971—A Student Journal
A year of music, study, travel, sightseeing & friends.



Day 29 — The beautiful parks of Vienna
31-August-1971 (Tue.)


TRANSCRIPT

Last week of German classes…examinations…

The parks are nice to study in.


REFLECTIONS

As with yesterday, exams in German class continue.


Vienna's Parks.
I mention that Vienna's parks are nice to study in. As you know, when we visited Schönbrunn Palace just a few days ago, I mentioned how beautiful and expansive the gardens and grounds were of that palace. In general, many of Vienna's city parks are also quite remarkable. I remember seeing them for the first time, and being amazed at how much bigger they were, full of flowers and benches for people to sit, talk, people-watch, and study.

The Viennese love to spend time in their beautiful parks.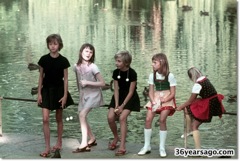 Stadt Park.
The park closest to the student dorm on Johannesgasse is Stadt Park, or City Park. There is a very famous statue of Johann Strauss in this park, where, I believe, I strike a "pose"—take that Madonna. (See the first photo on the Photos page.) My slides will be back soon and I will post some pictures of the gardens.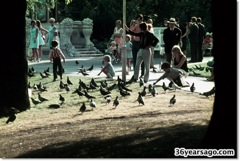 Dorms centrally located.
I may have neglected to say that the dorms on Johannesgasse were centrally situated smack dab in the middle of many great sightseeing treats. In addition to the parks, the Vienna Opera was only two blocks away, Stephansdom about three blocks, Stadt Park two blocks, the Hofsburg complex was perhaps six blocks. Within easy walking distance of many sightseeing venues.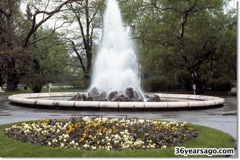 Gardens aplenty.
Other gardens that are wonderful and close by are the gardens and grounds of the Hofburg Palace, the Volksgarten, the Wien Burggarten with a statue of Mozart, Maria Theresa Plaza and the grounds of the Kunsthistoriches Museum [art history], and many others. Many major outdoor sightseeing venues will often have a plaza or garden area.


I don't remember as many beautiful gardens here in the States. Washington, D.C. may be the exception. Certainly there is Central Park in New York as well. It would be nice to have more outdoor "green" areas in public spaces to enjoy.


Google Earth.
A great way to sightsee "virtually" from your computer anywhere in the world is with
Google Earth.
(Download this application free from Google.com.) If you type in "Johannesgasse, Vienna, Austria" you will get to this area of Vienna discussed here.

Click on the blue dots for user-submitted photos. It's great. You will enjoy it. I'm enjoying using
Google Earth
to revisit some of my journey this year. I will do more of it as I travel.

John

- - - -