Day 141: Great skiing at Igls
36yearsago.com

Vienna 1971—A Student Journal
A year of music, study, travel, sightseeing & friends.



Day 141 — Great skiing at Igls
21-December-1971 (Tue.)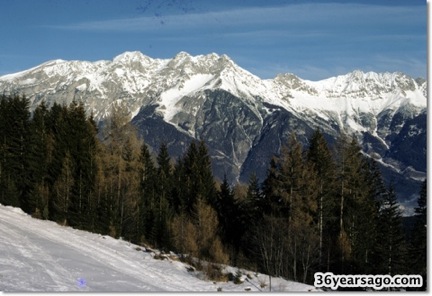 TRANSCRIPT

Innsbruck
Went to Igls and skied the whole day. It was the best skiing they've had, condition wise. The snow was in the sun and so it was not too hard. Really easy and nice (to learn) on the family run. Plenty of sun—good. However, Innsbruck was still in the clouds. My skiing was getting much better. Also went down top part of an Olympic run—nice and not too hard. Really good skiing day.

Had dinner with Elisabeth. Really enjoyed ourselves. My German was also getting its share of practice. Really good looking girl—reminds me a little of mom.


REFLECTIONS


Skiing at Igls.
I go to a new Innsbruck mountain today. I am by myself, I believe, and not in any classes. So I practice my skiing and my paralleling. Looks like lessons are paying off. When you are skiing, weather is important. I don't mind skiing in a moderate snowfall (not blizzards) but don't enjoy rain or freezing rain. I remember once in New York's Hunter Mountain being covered by ice from head to toe. That said, skiing on a beautiful sunny day is the most pleasure. Something about those blue skies. Igls looks like it may have easier slopes—better for my practicing. Here's a picture of me enjoying the sun (photo left), although I don't know the exact location—it could be Igls. Such long hair. I don't think I look so good with long hair, so why did I keep it? Probably, my new-found freedom from "work" (first time) and some kind of political statement possibly. And look at those glasses and how big they are? That was the style back then. Wow.



I will post some pictures that I believe are from my Innsbruck trip. However, as I have mentioned before, I could be mistaken as to some locations since I have lost the documentation. The opening photo shows great skiing scenery. Exact location is unknown. The photos can be seen in larger size and chronologically on the Photos page, and also on the Slide show page titled "Innsbruck."


Dinner with Elisabeth.
I invite Elisabeth to dinner and drinks and we have an enjoyable conversation. I can see me being attracted to someone like Elisabeth. She was a university student at the time and, if I remember, lived in a student dorm that had an early curfew—maybe it was a Catholic university? Boy, they must have been strict in those days. Regardless, she was such a pleasant person and just a joy. A great person and friend. Thanks for being my skiing partner, Elisabeth.

I mention my mom again. Uh, oh. Sigmund, I need help fast. Actually, sometimes I think I should have married everyone I met in Austria in 1971. Anjali, Elisabeth, and any new friends in the future. If I would have proposed and gotten married young, I would probably be living in Europe today, perhaps living in a castle as a nobleman, or something or other. Daydreaming is nice.



John

- - - -