Day 237: Beautiful Vienna in the spring
36yearsago.com

Vienna 1971—A Student Journal
A year of music, study, travel, sightseeing & friends.



Day 237 — Beautiful Vienna in the spring
26-March-1972 (Sonntag–Sun.)


TRANSCRIPT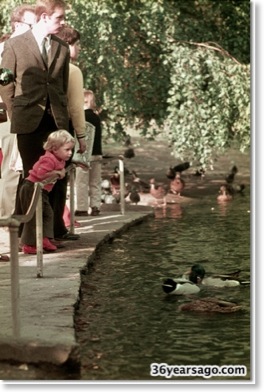 Beautiful day outside. Spring.

Wien turns beautiful. Sunny, nice and pleasant. Buildings are more pleasant. People walk and sit in parks. The crows have left, other birds sing. The trees and flowers are starting to bloom. Grass is green. The "horse-carriage" tours are back. Atmosphere to city, and already, the tourists are back.

A combination of everything.

Being today is Palm Sunday, I went to church in Augustiner Kirche and heard Mass. Was not bad. Gave me time to think.

Then walked to practice. When the Sunday's are nice, as today is, then it's really enjoyable.

Rest of day: writing, reading, el. musik score, ironed clothes.


REFLECTIONS

Palm Sunday. I didn't realize that I haven't been going to church as much lately. It's good to go.


Springtime in Vienna.
I seem to really be enamored of the newly-arrived spring weather in Vienna. I like spring everywhere. On Sunday's, I remember, enjoying the long walk from my apartment to the practice rooms in the school. If I remember correctly, I would walk past the Votivkirche, then past the Burgtheater and through the parks to the Hofburg Palace where I would cut through to Kärtnerstrasse, past the Staatsoper and then a few blocks to school. This is not the only path to school—I could walk the Ringstrasse and go past the University of Vienna, the Parliament, the Museums of Art and History, and the Staatsoper. Aren't those incredible sightseeing walks? And I did this many times in good weather. You would also see many people sitting in the parks and enjoying the outdoors and weather (photo left).

I would like to see Vienna again, in the spring.

Many of the Vienna pictures probably came on days like today. Here are a few of those pictures. See Day 230 for some of the sightseeing photos of Vienna that I walk by on a beautiful Sunday walk. Below is a park-like setting in the plaza by the History and Art museums.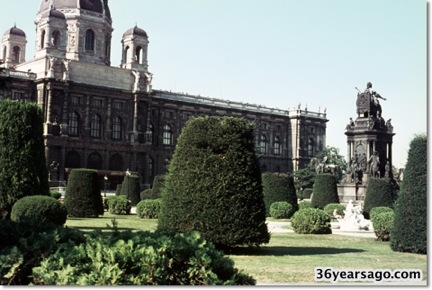 John

- - - -