Day 119: iWoz, iJon
11/29/07 09:05 PM Filed in:
Vienna
36yearsago.com

Vienna 1971—A Student Journal
A year of music, study, travel, sightseeing & friends.



Day 119 — iWoz, iJon
29-November-1971 (Mon.)


TRANSCRIPT

I'm beginning to sometimes notice progress in both my horn playing and piano. However, it's not steady, especially with horn.


REFLECTIONS

1971. Nothing happens. Progress is good.

2007 is iWoz. iWoz is the title of the book by Steve Wozniak and Gina Smith that tells the first-person story of Wozniak's life—from his early fascination with how things worked, to science fairs, to his college years and Blue Box telephone gadget, to meeting Steve Jobs and cofounding Apple Computer, to his life and adventures after Apple. If you're not familiar with Wozniak, often called Woz, he created and engineered the first personal computer, and the first computer with a keyboard and screen—the Apple I computer. Steve Wozniak (see above) started the personal computer revolution. Wow!

Founding Apple. This book sets the record straight—Wozniak was the engineering genius behind the Apple I and the Apple II computers that started the personal computing revolution. His engineering talents were genius, touching many elements of computing including the important floppy drive controller that led to the ability to store data. Also fascinating, is how Woz gives credit to and understands the creative and get-things-done role that Steve Jobs played in starting Apple. Without Jobs, there would be no Apple. Thus, Job's vision, marketing sense, and the all-imporant ability to get-things-done was equally critical to starting Apple and launching the computer revolution. Wozniak and Jobs were meant to be together. Then comes venture capitalist Mike Markulla, who made Apple a Fortune-500 company. It is fascinating stuff. The engineering though, was Wozniak.

Read this book. If you are an Apple fan, computing engineer, or have an interest in the history of personal computing and Apple, read this book. Here is a link to Amazon. After reading the book, I was struck by Woz's kindness and desire to reward the people and engineers that worked for him. That is a testament to his character. Ignore the part about him playing pranks on everyone.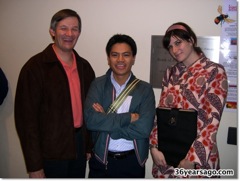 Meeting Woz.
Sometime this past year, I was lucky enough to be invited by my friends Jovito (middle) and Allison (right), to go to hear Woz speak at the Museum of Natural History in New York. Wozniak gave a talk that I remember struck me as being amazing, especially how his father nurtured Steve's interest in how-things-worked by just answering questions when asked. That's an important lesson to be learned for all of us parents. Gently nurture your child's interest. Don't push. Nurture. Beautiful stuff.


Woz pic.
At the book signing, I tried to take a picture of Woz (right). I was having major issues with a Nikon camera and 3rd-party batteries (the camera would shut off every other time you tried to take the picture), and so I only got this blurry picture. Damn. Woz was kind enough to wait for me and my camera's antics, as I was the last guy in line. What's that about nice guys and my tendency to be last in line?


iJon.
I like this. I wonder if the URL is available? (No, it's taken.) As I finished reading
iWoz,
I thought that there were similarities between 36yearsago and iWoz. We are both telling our stories of when we were young and starting our life journeys. See, keep a journal. There are differences, however—at age 22, he was a genius designing the first personal computer, and I was not. Perhaps though, one day, I'll have some music out there that will touch a few people. Then we'll say, he was a genius and I was an artist. Hmmmm. Maybe.


An aside.
When I first got the
iWoz
book, I was planning a computer podcast (now on hold) and wanted to do a show on this topic. The title:
I came, I saw, I conquered; I created the personal computer—iWoz.
Someday, in the future, the podcast will be revived. Maybe I'll get an interview with Steve.


Future ideas.
Once again, the purpose of this blog is to inspire young and old to not give up on their dreams. I'm hoping that a few of my ideas will bring me to new directions and opportunities. I hope that your ideas will do the same for you.

Thanks Steve (Woz).

Oh, and thanks Steve (Jobs).

Without both of you, the world would not be as nice as it is today.

John

- - - -